Featured photo from Angie McMonigal Photography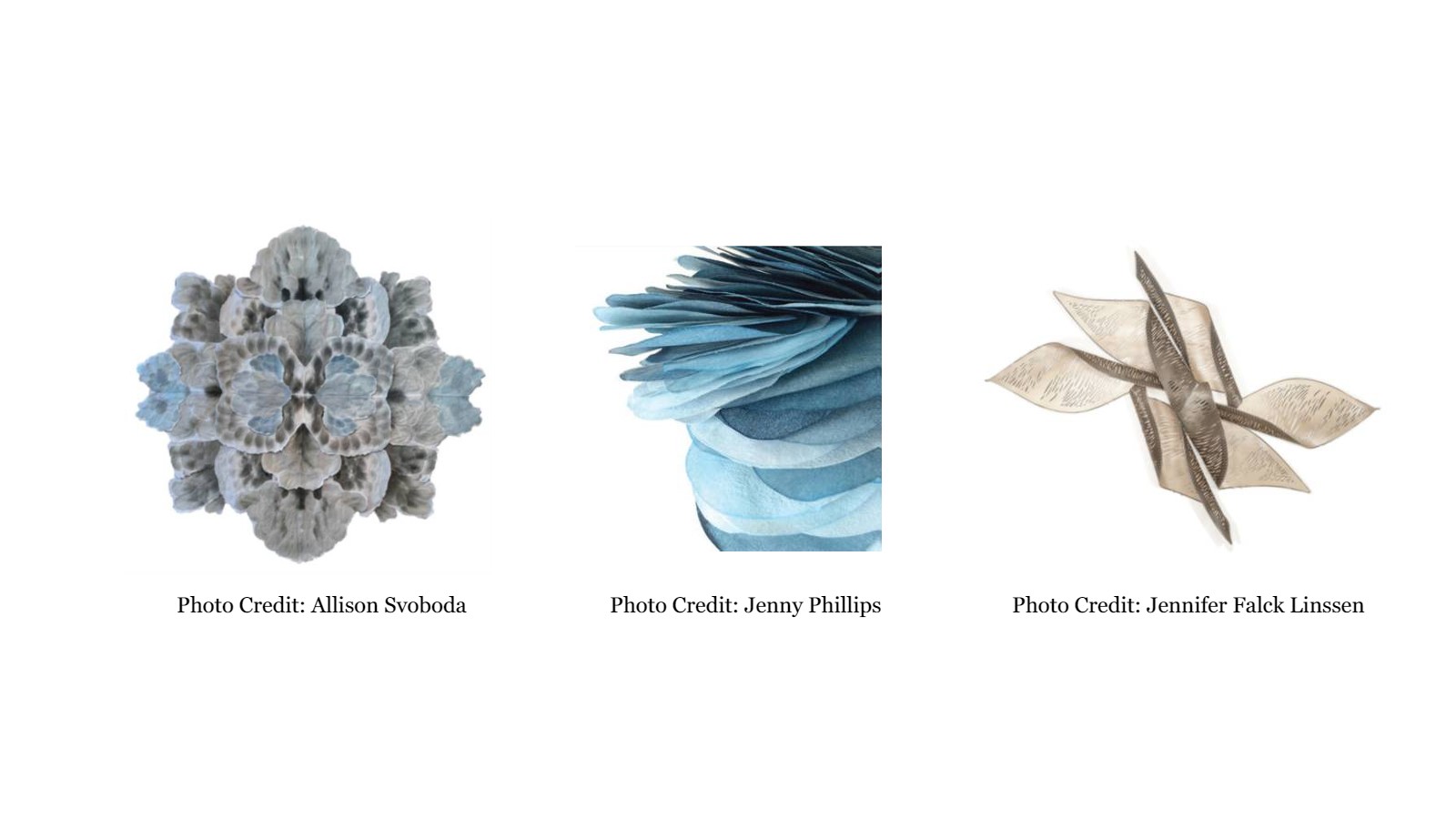 At the St. Regis, there are countless masterful and curated art pieces that grace our walls. With a variety of mediums and messages, there will certainly be a piece that every personality is drawn towards. Because we believe in celebrating creativity and artists, this month we'll highlight three of these amazing artists: Allison Svoboda, Jenny Phillips, and Jennifer Falck Linssen.
Allison Svoboda is a local Chicago artist with a unique artistry. She uses sumi ink on beautiful rice paper to create her work. With such a delicate medium, her bold prints leave an impressionable juxtaposition. When asked about her art, Svoboda said:
"Organic patterns and forms found in nature have an instinctive draw. When I find compositions that intrigue me, I then delve into the long process of collage, taking the time to digest the image. The patterns or lines of the work often have multiple inferences. The flow of a tree reaching the sun has the same movement as a river reaching toward the ocean. Water droplets bind together and become fluid just as arctic ice builds up and melts apart. The dichotomy in our natural world of destruction and growth, light and dark, fear and wonder are very important to my work."
Svoboda's piece, "Mandala" is in the St. Regis Meeting Room above the credenza. She has a variety of shows this winter in the Chicago area where residents are encouraged to view more of her work.
Jenny Phillips is a multimedia artist based in San Francisco, CA. With a background in printmaking, Jenny spent her formative years at the Brooklyn Academy of Music working as a graphic designer.
She leverages paper, thread, wax, papier–mâché, ink, watercolor, washes and found objects in her work to convey feeling and evoke essence.
Phillips works from feeling rather than ideology. Inspired by the ordinary and the everyday, she responds to the deeply personal moments our environments offer us. Phillips discovers beauty in the expected and the unexpected, gleaning its essence from the places and objects she encounters. She wants to share her experiences in the simplest way, a way she finds joyful and calming. "Distilling images into their simplest form is my ultimate goal," says Phillips. "Not much is often enough." Essence is key and Phillips finds it in the commonplace, in the environment and its sense of place. She strives to absorb the flow and tempo of the everyday, whether from the meter of her step, the rhythm of the seasons, or the sense of the fleeting and tenuous beauty that surrounds us. It is these subliminal emotions, these moments in time, that Phillips strives to capture in her work.
Phillips' piece, "Paper Pebbles" is in the St. Regis Office.
Jennifer Falck Linssen, from Green Bay, Wisconsin, is a special artist that brings movement and excitement to her work. She uses a variety of materials that weaves a story fit for the St. Regis Wine Room. When asked about her work Linssen said,
"I create a sculpture in hand-carved paper, metal, and natural woven elements, which explore the delicacy of nature, the beauty of line, and the transformation of light and space. Through my work's investigation of both natural and man-made patterns, I seek to understand how pattern lends overall strength to an object, and how light itself can be molded and shaped to conceptually express moments that embrace nature's change, rebirth, resiliency, and endurance. The interaction of light, carved patterns, and shifting shadows combine with the architectural shape to sculpt an ever-changing landscape in space around each piece."
Falck Linssen's piece, "Passerine" made with Archival cotton paper, aluminum, waxed linen, mica, paint, and varnish is in the St. Regis Wine Room.
The St. Regis Chicago has a variety of artwork that is meant to be honored. Be sure to admire these beautiful pieces and many more from other talented artists. To learn more, please visit The Residences at The St. Regis Chicago here.