Photo from Kelly-1179532 on Unsplash
Do you wonder what a day in the life of a St. Regis Chicago resident is like? Well, look no further as we are diving into what it is like to live in The Residences at The St. Regis Chicago for 36 hours.
7:00 a.m.: Start the day taking in nature at Lakeshore East Park 

Get a fresh start to your morning with a brisk walk or run through The St. Regis Chicago's backyard, Lakeshore East Park. This urban escape is a perfect spot to kick-start your day—you can even bring your furry friend with you to roam the off-leash dog park and accompany you on your stroll. Before you head back inside, be sure to stop at Eggy's Diner or Drunken Bean to satisfy any of your breakfast needs!
8:00 a.m.:  Pamper yourself with a luxurious treatment at The St. Regis Spa

After your outdoor pursuit at Lakeshore East Park, it's time to indulge in some well-deserved pampering at The St. Regis Spa that evokes an urban oasis of calming sensory experiences. Located on The St. Regis Chicago hotel's wellness floor, The St. Regis Spa offers a retreat of relaxation and rejuvenation — from its array of personalized massages, restoring facials and revolutionary aesthetics treatments, The St. Regis Spa is the perfect location to spoil yourself.
Whether before your treatment or once you are fully relaxed, make a stop at The St. Regis Chicago's fully attended fitness center — located steps away from The St. Regis Spa on the wellness floor — featuring state-of-the-art fitness equipment, outdoor sundeck, heated indoor pool, yoga studio and two private fitness rooms. 
10:00 a.m.: Enjoy a relaxing stroll on the Riverwalk, Lakefront trail, or some time on your yacht in the marina 

Head back out to enjoy the outdoors with a leisurely stroll along the iconic Chicago Riverwalk, located just a short walk from The St. Regis Chicago. As the morning sun is hitting the picturesque sight, you can take in the delightful city scene. 
While you're out, grab a coffee at one of the cafes located on the river's front. Additionally, you can also spend some quality time on your yacht at the nearby marina, enjoying the serene waters of Lake Michigan and the city's skyline.
12:30 p.m.: Spend quality time with your furry friend

After a morning filled with activities, it's time to unwind and spend some quality time with your pet at the indoor Dog Lounge and Retreat conveniently located on the ground level of The Residences. Head over to this luxurious pet haven so your four-legged companion can run around and get well-deserved playtime. 
The lounge is an ideal amenity for pet lovers to keep your pet comfortable and entertained in the comfort of your own residence building. Don't forget to pamper your pooch in the onsite grooming station and bath! 
2:00 p.m.: Conduct a virtual meeting in The Study

Take a trip to the 47th floor to settle down in The Study, a private meeting room equipped with top-notch technology to assist with any virtual presentation or conference call needs. Whether you are working alone or have your team with you, The Study is an ideal place to get uninterrupted work done surrounded by breathtaking views.
3:00 p.m.: Immerse yourself in our outdoor tranquil oasis.  

Once your meeting is over, take a quick trip to The Residences outdoor pool—a peaceful and spectacular viewing venue with sights of Chicago, Navy Pier and Lake Michigan. Whether you prefer to bask in the sun or take a dip in the pool, this outdoor space offers a serene environment for you to ease your mind and fully relax. 
5:00 p.m.: Indulge in a delicious dinner at Miru 

As the day starts to wind down, treat yourself to an unforgetting dining experience at Miru, located on The St. Regis Chicago hotel's 11th floor. Celebrate the unique flavors and cuisine of Japan, led by Chef Hisanobu Osaka; the restaurant's delectable menu features Japanese small plates, sushi and sashimi complemented by a selection of steak and seafood, perfect for all guests to enjoy, whatever their preferences.
7:00 p.m.: Host a gathering in The Residences at The St. Regis Chicago's amenity spaces 

With the night's end nearing, it's time to gather your friends and make your way to the exquisite amenity spaces in The Residences at The St. Regis Chicago. The Wine Lounge, located on the 47th floor, offers a relaxing environment to entertain in style while sipping on fine wine and gazing at Chicago's beautiful architectural views. This luxurious space becomes the ideal setting for any gathering — you are stepping into a world of opulence and sophistication, setting the tone for an unforgettable evening.
10:00 p.m.: Wind down and reflect on an amazing day at The Residences at The St. Regis Chicago

As the clock strikes 10:00 p.m., it's time to take time to settle down in your distinctive residence, tailored to your discerning tastes. For the perfect end to every day, order a sweet treat from The St. Regis Residences' Butler to be delivered directly to your residence. Enjoy your sweet treat as you gaze out your window to watch Navy Pier's premiere firework show.
9:30 a.m.: Embark on an energizing visit to The St. Regis Chicago Fitness Center

Awaken your senses and embrace the morning with a captivating Power Yoga class at The St. Regis Chicago Fitness Center. Feel the exhilarating flow of breath and movement as you dive into this dynamic practice, designed to elevate your endurance and strength. Amidst this invigorating session, take a moment to center yourself and take in the breathtaking views of Chicago's iconic landmarks, from Navy Pier to the Chicago River.
12:00: p.m.: Run errands on Michigan Ave.

Once you are recovered from your early fitness session, take a quick stroll over to Michigan Ave. — located just a short walk away from The St. Regis Chicago. Partake in the city's shopping delights and check off your daily errands with ease. 
From a quick stop to indulging in self-care essentials at Sephora and exploring the chic boutiques and renowned department stores, Michigan Ave. offers a captivating and convenient haven for all your wants and needs.
3:00 p.m.: Take advantage of The St. Regis Chicago's unique amenity spaces

Invite your friends over for an afternoon golf practice on The Residences at The St. Regis Chicago's 47th floor. You can Improve your golf game throughout the year with our state-of-the-art golf simulator, which is perfectly equipped to make your next trip to the golf course a breeze. 
Then, immerse yourself in the captivating world of cinema classics or cutting-edge releases in the comfort of our lavish onsite cinema, guaranteeing an unforgettable cinematic experience.
5:00 p.m. Indulge in a Tastemaker's Dream Dinner 

Continue your ideal day with friends and family by hosting a quaint dinner in The St. Regis Chicago's dining room, which can comfortably accommodate your gatherings in its spacious and beautifully appointed dining suite. 
Don't forget to take advantage of the demonstration kitchen! Whether you want to show off your culinary delights, or coordinate with an on-site butler to have a private chef join your affair, the demonstration kitchen is sure to spice up your evening.
7:00 p.m.: Book your upcoming reservations with The St. Regis Concierge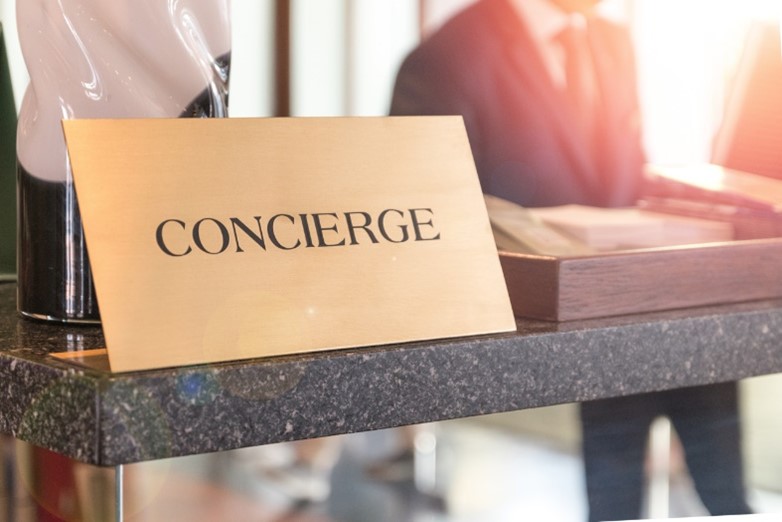 Before you head to your residence to relax for the night, stop by The St. Regis Concierge to get all your upcoming reservations booked. Whether you are looking to stay onsite at The St. Regis Chicago or wish to explore Chicago's captivating dining scene or cultural events, our dedicated concierge will weave together your perfect night, ensuring every detail is tailored to your desires.
Interested in living a life of luxury in one of Chicago's most central locations? Learn more about The Residences at The St. Regis Chicago.