The Vista Sales Gallery is excited to introduce a new installment of three high-end art pieces now on display. The additions are part of a rotating art series that highlights works from top local galleries – read more about the eye-catching pieces in the detailed summaries available below.
Incredible artwork is just part of what creates a beautiful home and Vista Tower takes pride in being able to provide its residents with the best fine art, all while simultaneously supporting Chicago's vibrant arts community.
This first piece was created by Chicago native Rashid Johnson of Monique Meloche Gallery, whose work draws from a wide variety of media, exploring themes of art history, individual and shared cultural identities, personal narratives, literature, philosophy, materiality and critical history. His artistic vision and spectacular creations have placed him as one of the most influential contemporary American artists of our time. His piece, Walk On By, is crafted from burned red oak flooring, black soap, wax and spray enamel.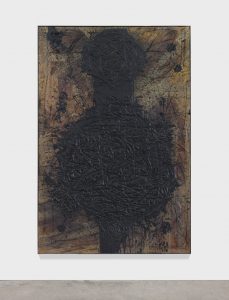 Walk On By, 2013
Landlord Painting, from Kavi Gupta Gallery, was created with acrylic on canvas by Scott Reeder, a multi-disciplinary artist based out of Chicago and Detroit. His work utilizes simple forms to confront complex ideas and invoke cultural criticisms, and some have provoked public controversy in the past from their interpretable nature. He has also worked with public sculpture, neon and installation.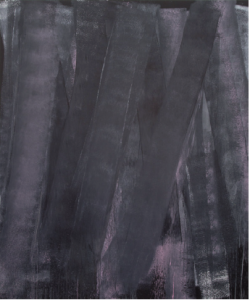 Landlord Painting, 2015
The final piece comes from Chicago-based artist Richard Hull of Western Exhibitions. Richard received his MFA locally from the School of the Art Institute of Chicago in 1979 and later found himself at the primary dealer of Chicago's most legendary Imagist artists, Phyllis Kind Gallery. His works serve as a loose-limbed figuration from his time painting primarily abstracted architectural interiors, bringing them to a more romantic and painterly type of style. His piece, Delayed Surprise, was created with oil and wax on linen.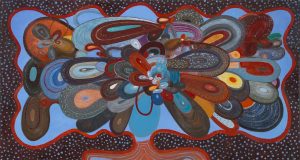 Delayed Surprise, 2016
Vista Tower's luxury condominiums should be a place of consistent beauty and reflection. Our Artist-In-Residence program is just another way Vista pays homage to local talent, offering residents an even more enriching cultural experience.
To see how you can live where your home doubles as a work of art, schedule a tour to view Vista Tower's first-class amenities and available penthouses.