With the opening of The St. Regis Chicago Hotel, residents of The St. Regis Chicago should rejoice at the variety of amenities that will become available to them. One of the luxurious amenities is The St. Regis Spa under the guidance of Director of Wellness Kerri Stokes.
As a leader within the Chicago spa industry, Kerri is eager to serve guests at The St. Regis Spa and is dedicated to curating a rejuvenating and relaxing experience for all. Kerri shares more about The St. Regis Spa and how residents can have their ideal spa experience.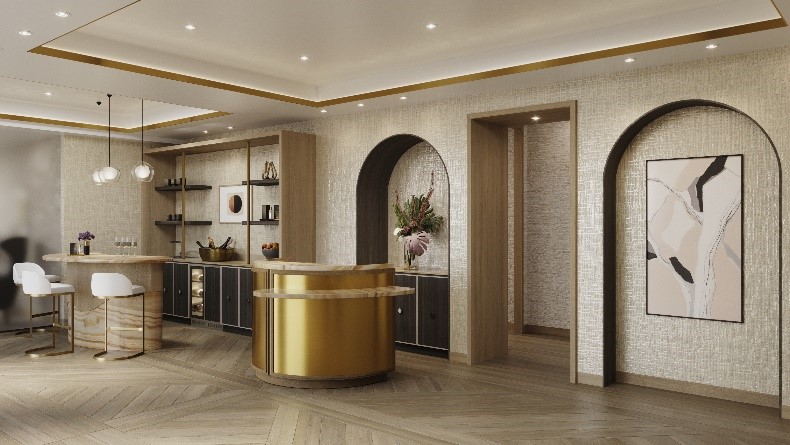 Photo Credit: The St. Regis Spa
Q: What do wellness and self-care
mean to you?
A: Wellness is deeply personal. To me, wellness and well-being is what I do in my journey to feel mindful, fully restored of my energy, free of tension; and when my spirit is alive and in harmony. Wellness is taking care of yourself — physically, emotionally, and mentally. I am so excited to personally welcome you to the beautiful The St. Regis Spa that is at your doorstep, and our team looks forward to helping you create memorable and rejuvenating experiences toward your own journey to total well-being. I have been in the wellness industry my entire life and I truly believe that wellness is a way of life. 
As a child of hair stylists and salon/day spa owners, I learned very early on how important taking care of yourself is and how it helped me to thrive. Professionally, I have over 15 years' experience working in the luxury hotel spa market, beginning at the Peninsula Chicago and most recently at the Waldorf Astoria Chicago, where I was the Director of Spa & Health Club and worked for 12 years. Additionally, I received my MBA from Purdue University in 2021 and firmly believe learning should never stop because life can always teach you new things. 
Q: In your own words, describe the spa's philosophy to wellness and self-care.
A: Built upon a timeless legacy of unparalleled service, The St. Regis Spa at The St. Regis Chicago is a modern interpretation of the same spirit of celebration, rejuvenation, and timeless elegance found at the famed Iridium Room at The St. Regis New York. Just as the Iridium Room was the coveted gathering place for the cultural elite, The St. Regis Spa reimagines a new standard of celebration for today's modern luminaries, centered around well-being, rejuvenation, and restoration. 
Q: How is your team working to curate a rejuvenating guest experience for those coming to the Spa?
A: Our team has developed an extensive collection of wellness and relaxation tools, with the mission of transforming our guests to the peak of tranquility. This mission starts from the second you walk through our doors. Upon entering the Spa and before your curated treatment, you will have the opportunity to enjoy our Celebration Bar, a tranquil yet intentional space where you can take a moment to thank yourself for focusing on your well-being. Our team promises a rejuvenating and sensory experience, where you can relax and feel respite from the day-to-day… just steps away from your home, too!
Q: Describe a perfect morning or afternoon at the Spa.
A: As a resident, you can enjoy the five-star amenities at The St. Regis Spa any time of the day. Wellness means something different to everyone, so I encourage you to tour the Spa and all our amenities and define your own perfect spa day.

For me, my perfect day at the Spa will always begin in the morning with relaxation and rejuvenation. I would start with a Morning meditation class, followed by one of our intimate Yoga or Mat Pilates classes. Later a relaxation massage, a medium pressure treatment, promoting deep relaxation and balance. 
In the afternoon, I would follow this restorative experience with our "rest ritual," which is a combination of craniosacral and facial massage to relieve stress and encourage deeper, intentional rest. I'd then enjoy our sauna and pool for further immersion into a deep state of Zen and to enjoy moments of meditation amidst the clouds looking out at the breathtaking Chicago skyline.
Q: What is your favorite treatment being offered at the Spa, and why?
A: My favorite treatment offered and what I would enjoy every day if I could is part of "Caroline's Collection" on our menu — it's steeped in history yet complemented by innovative results-driven treatment methods. Mrs. Astor was the curator of the upper echelons of New York society during the latter half of the 19th century, and a symbol of luxury, opulence, and glamor. The collection of treatments pay homage to Caroline's passion for innovation, refinement, and vibrancy. 
The highly tailored Spa experiences, like The 400, combine the rarest ingredients for a sensorial escape for both the mind and body. A full-body granita scrub — which is incredibly reviving and energy-inducing — is followed by an aromatic relaxing full body massage. This is topped off with a triple active facial, focused on promoting youthful, plump, and radiant skin.
Q: How do wellness, self-care,
fitness and spa offerings respond to the latest innovations and/or trends?
A: The St. Regis Spa is the first of its kind; the spirited sanctuary represents the intersection of celebration, luminescence, and bespoke service to encourage the journey to well-being for all guests. We ensure that all treatments are first-class for our guests and our team is continuously researching the newest innovations and trends to update our methods and offerings. 
Honing in on timeless treatments that our guests always love was easy; finding new areas of expansion for our Spa menu was the next step, and we have found seamless ways to introduce innovative, trend-led offerings that complement signature Spa services and favorites. For example, our team has emphasized rest as one of our main areas and "rituals" of wellness at The St. Regis Spa, as we understand that sleep and restoration is a new focus area for many guests.
Q: What sets the spa apart from other luxury spas in the city?
A: The St. Regis Spa goes above and beyond your typical wellness center offerings. The St. Regis Spa is a rare retreat amidst the hustle and bustle of Chicago. It is designed for indulgence and provides guests with a private invitation to experience the extraordinary with every aspect of your visit, from the lush surroundings to the best products that focus on rare and results-oriented ingredients. 
The 12,000 square feet urban oasis provides a calming sensory experience and is a hub for every type of wellness treatment a guest could desire. One offering I absolutely love is our The St. Regis Spa Suite, which offers a spacious gathering area for couples, families, and friends to enjoy treatment time together. It's a perfect way to celebrate life's special moments, or just enjoy relaxation with close friends or family.
As residents, you will have the exclusive opportunity to book and enjoy Spa treatments at The St. Regis Spa before they are officially opened to the public. Stay tuned for communication later this month with key reservation details for wellness in Chicago. If you have any questions about The St. Regis Spa or other amenities at The St. Regis Chicago hotel, please contact the Spa Desk Team at Spa.Chicago@stregis.com